Home / Football (Science of Drag): Sports Lab Series
Football (Science of Drag): Sports Lab Series

This item is only available for Canadian orders.
This title is a part of the series
Sports Lab Series
John is a 12 year old quarterback who wants to throw the perfect spiral. Dr. Heather sends guest pro John Williams to hand off some valuable tips to reduce drag on the ball while host Nykeem drags himself though some tough training drills.
---
Related Titles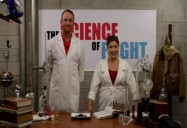 The Science of Flight and Aerodynamics: Plankton and Tube's...
McIntyre Media Inc.
MCI050
Building on the Properties of Air DVD, this new program introduces students to the science of...