Home / A Winter Tale: DocJam Series
A Winter Tale: DocJam Series
This title is a part of the series
DocJam Series
Winter life in British Columbia can be exhilarating, as it has much to offer both local residents and travellers from afar. Part of that includes Northern Escape Heli-Skiing, a skiing business near Terrace, British Columbia. Picturesque back country, which includes the unrivalled Shames Mountain, provides access to many avid skiers and snowboarders to gather and take part in the winter lifestyle. And while the mountains and hills provide thrill seekers with the landscape, it's the people behind businesses like Northern Escape that make it possible for everyone to get the most out of the experience.
---
Related Titles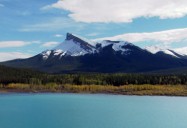 Banff National Park: A Park For All Seasons Series
Blue Ant Media
BAM010
Banff National Park is the first and perhaps still the finest of all Canada's National Parks...