Home / The Railroader's Daughter: DocJam Series
The Railroader's Daughter: DocJam Series
This title is a part of the series
DocJam Series
The rich history of Terrace, British Columbia has long been linked to the railway and the many people who worked on it over the years. One of those was Richard Rinaldi, who worked for Canadian National Railways for 35 years, from 1952 to 1987. His daughter, Chantal Meijer, grew up in railroad stations all across British Columbia. In this episode, she shares the story of the railway's history in British Columbia, as well as her memories of growing up on the railway.
---
Related Titles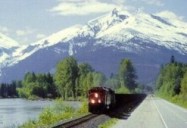 Terrace: DocJam Series
Canazwest
CPI002
In Terrace, British Columbia, a rich history exists that goes back to when Aboriginal peoples lived...