Home / An Act of Kindness
An Act of Kindness
Canada's courage in times of war is made up of small chapters written by individual soldiers. In this chapter, one Canadian's generosity in WWII towards a starving prisoner just released from a Nazi camp sets in motion a remarkable reunion. A wonderful segment for Remembrance Day ceremonies. Includes archival footage.
---
Related Titles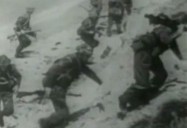 Remembering Juno Beach
CTV
CTON032_a
Jim Parks was only 15 when he joined the Canadian Army. He was part of the brigade that landed on...