Home / Best Shot: W5
Best Shot: W5
Catalogue Number:
CTV089
Producer:
CTV
Subject:
Consumer Studies
Language:
English
Grade Level:
9 - 12, Post Secondary
Country Of Origin:
Canada
Copyright Year
: 2004
Running Time:
20
When two-year-old Shayna Ockrant woke up one Saturday morning five years ago with a fever, her mom gave her a dose of acetaminophen and wasn't overly worried. However, things began to spiral out of control and doctors soon realized Shayna had meningitis. Many kids haven't been vaccinated for meningitis. That's because Menjugate is one of four vaccines left off the government's list of routine vaccinations given to children.
---
Related Titles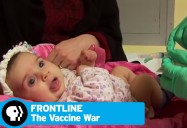 FRONTLINE: The Vaccine War (2015)
PBS Video
041814
Now, in 2015, measles, mumps, and whooping cough are all making a comeback. Building on years of...