Home / The Children of Woodlands (W5)
The Children of Woodlands (W5)
For more than a century, the Woodlands school just outside Vancouver was supposed to be a safe haven for mentally challenged children, but now, former residents are challenging the B.C. government, alleging they were abused while in government care at Woodlands. W5 looks at their fight for compensation and explores the allegations of abuse.
---
Related Titles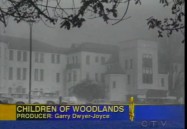 The Children of Woodlands - Update (W5)
CTV
CTV366
Woodlands School, a complex of forbidding buildings in New Westminster, British Columbia was opened...