Home / Behind The Mask (W5)
Behind The Mask (W5)
For Canadians, the World Junior Hockey Championships are one of the biggest things in hockey. And the finals in December 2006 in Leksand, Sweden were as big and as sweet as it gets. This W5 episode follows the story of Canadian goaltender, Carey Price.
---
Related Titles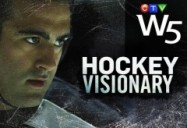 Hockey Visionary: W5
CTV
CTV634
When Mark DeMontis was a kid he wanted to become a professional hockey player. He almost made it...