Home / Beacon of Hope: A School's In Your Face Solution to Gangs: W5
Beacon of Hope: A School's In Your Face Solution to Gangs: W5
Gang violence is rising across Canada, with one out of every five people murdered a victim of a gang hit. Ideas on how to deal with the problem are mostly focused on punishment rather than prevention. In the Toronto suburb known as Peel region, gang violence is on the increase. But when the violence hit too close to home and threatened students in a particularly troubled area, one teacher decided he had too much.

Endorsed by the Peel Regional Police, this stunning video is a must-see for students, parents and teachers.
---
Related Titles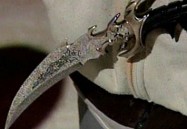 City of Gangs: Regina Grapples with Native Gang Problem (W5)
CTV
CTV444
W5 looks at the rise of gangs in Regina, and the story of a young Aboriginal man who was murdered...