Home / The Narco Riviera: W5
The Narco Riviera: W5
Are Canadian tourists in the Mayan Riviera at risk of getting caught in cartel cross fire? Investigative reporter Avery Haines gets rare access to a Mexican drug boss, for a far-reaching and disturbing interview that airs as part of her W5 documentary, "The Narco Riviera".
---
Related Titles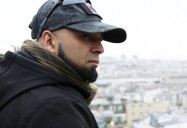 Undercover Jihadi
Matter of Fact Media
MFM001
Undercover Jihadi follows Mubin Shaikh, a man who went from extremist militant to undercover...