Home / Homothérapies, conversion forcée
Homothérapies, conversion forcée
Catalogue Number:
F296-014
Producer:
Ego Productions
Producers:
Wlodarczyk, Olivier
Directors:
Nicolas, Bernard
Producing Agencies:
Arte France and EgoDoc Productions
Subject:
Documentary
,
Gender Studies
,
Guidance
,
Health and Medicine
,
Psychology
,
Social Issues
,
Social Sciences
,
Sociology
,
Women's Studies
Language:
French
Grade Level:
9 - 12, Post Secondary, Adult
Country Of Origin:
France
Copyright Year
: 2019
Running Time:
52:01
L'homosexualité est aujourd'hui encore considérée comme une maladie par de nombreuses personnes. Basés sur des principes religieux et de psychanalyse et organisés sous formes de réseaux venus des Etats Unis, les « thérapies de conversions » sont aujourd'hui en expansion au Canada et en Europe.

Cette investigation se plonge au cœur de ces organismes pour révéler leurs pratiques aux conséquences souvent dévastatrices et qui échappent cependant aux radars des autorités publiques.

En 2017, l'Allemagne et Malte ont rejoint les pays autorisant le mariage des couples homosexuels et les droits des personnes LGBT progressent partout dans le monde, tout comme les thérapies de conversion qui n'ont jamais été autant présentes.
---
Related Titles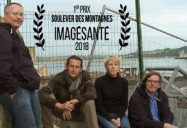 Entre deux sexes
ARTE France
F196-027
Afin que l'ordre des choses soit respecté, que le monde reste rose ou bleu, fille ou garçon, la...