Home / Writing On Stone Provincial Park, AB: Great Canadian Parks
Writing On Stone Provincial Park, AB: Great Canadian Parks
This title is a part of the series
Great Canadian Parks Series
Southern Alberta's Writing-On-Stone Park protects more rock art than any other location on the North American plains. For centuries, indigenous people created petroglyphs and pictographs on the park's sheer sandstone cliffs. Writing-On-Stone has a unique and mystical landscape, characterized by mushroom-shaped rocks known as 'hoodoos' and 'coulees', damp, steep-walled ravines. Pronghorn antelope graze on the open prairies, white-tailed and mule deer cruise along the river and yellow-bellied marmots bask on the sun-warmed sandstone.
---
Related Titles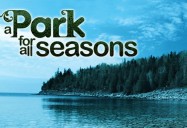 A Park For All Seasons Series
Blue Ant Media
BAM007
Go behind the scenes of Canada's most spectacular National Parks, and learn the history, explore...