Home / The Country of Our Defeat: Part 2 - The Land Between Series
The Country of Our Defeat: Part 2 - The Land Between Series
This title is a part of the series
The Land Between Series
Sam Moore, in the early 1800s, started a trading post in partnership with a Mississauga man he called "Too Tall". Surveyors, who were amongst the next Europeans to come to The Land Between, had great difficulty in understanding and finding a use for a land they described as a "barren, rocky country." The timber industry and lumber barrens followed, and had a huge impact upon the landscape. In order to encourage more diverse settlers to come to The Land Between, the government developed a network of colonization roads, which they hoped would help to populate the region. In reality, many of these roads turned into trails of broken dreams for the farmers who settled here. Finally, the program presents the region's mining history, including Ontario's first gold rush, and the multitude of mostly unsuccessful mining ventures lured into The Land Between by its incredibly diverse geology.
MORE RESOURCES



---
Related Titles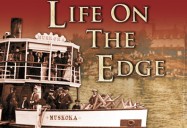 The Shield Series
Inspired Planet Productions
LIV000
This 4-part Canadian-produced series provides a colourful, diverse and detailed examination of the...