Home / Canada's Natural Resources Series: Creating a Sustainable Environment
Canada's Natural Resources Series: Creating a Sustainable Environment
In this new series from award-winning Métis filmmaker Matt LeMay, we explore three of Canada's natural resources - forests, water and wildlife - all a vital part of the earth's incredibly balanced and interconnected ecosystem that miraculously repairs and maintains itself. However, human beings have affected the earth to the point where it can no longer restore balance in some ecosystems. We rarely give thought to how we use and misuse the forests, water and wildlife. We must act responsibly and in a manner that allows for the on-going replenishment of the earth's resources. Environmental sustainability is using the earth's resources in a way that will ensure that they will be available for future generations. We need to create an environment that sustains life, supports progress, and plans for renewal. Our economic activities must not deplete the Earth's resources and they must respect the Aboriginal communities and cultures that have inhabited this country for thousands of years.
This series will meet your curriculum needs for science, geography, First Nations, Inuit and Métis Studies, social sciences and civics courses.
---
Related Titles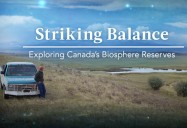 Striking Balance Series: Exploring Canada's Biosphere Reserves
Striking Balance Inc.
LIV017
Biosphere reserves are regions of global ecological significance that make an ongoing commitment to...