Home / No Hard Fillings/Sweet Jewelry (Cree Version): Louis Says Season 2 (Episode 3)
No Hard Fillings/Sweet Jewelry (Cree Version): Louis Says Season 2 (Episode 3)

This item is only available for Canadian orders.
This title is a part of the series
Louis Says: Season 2 (Cree Version)
Episode 1A - No Hard Fillings:
Randy must take something thôskâw (soft) and maskawâw (hard) to Mrs. Charles so she can make a doll. Aboriginal people used to stuff dolls with hair from animals or with cattail grass.
Episode 1B - Sweet Jewelry:
Randy must use beads to make a birthday present. Louis asks him to make a kiskinawâcihôkispison (bracelet) and a tâpiskâkanîmin (necklace). When he runs out of beads, Katie shows him how to make jewelry using cereal hoops. Jewelry is an important part of aboriginal tradition.
** Spoken in Cree with English subtitles. **
---
Related Titles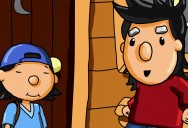 The Big Pie Sale/Colours of the Quilt (Cree Version): Louis Says...
Louis Says Productions Inc.
LSC003
Episode 3A: The Big Pie Sale - Louis tells Randy that he has to deliver kuhkithuw (all) the...