Home / The Big Picture: Confucius Was a Foodie! A New World Adventure in an Ancient Cuisine (Season 1)
The Big Picture: Confucius Was a Foodie! A New World Adventure in an Ancient Cuisine (Season 1)

This item is only available for Canadian orders.
This title is a part of the series
Confucius Was a Foodie! A New World Adventure in an Ancient Cuisine (Season 1)
Episode one is an eye-opener, as Christine walks in the footsteps of some of the first Chinese immigrants in North America, revealing stories of luxurious early Cantonese restaurants and imported Chinese chefs and ingredients. From its popularity in the Jewish communities of New York in the early 1900s to its 1950s resurfacing as something exotic and adventurous; from the mom and pop restaurants in virtually every small town on the continent to Asian fusion and 'New Chinese' produced by some of today's hottest chefs, Christine finds it, eats it and attempts to break it down into bite-sized pieces for viewers.
---
Related Titles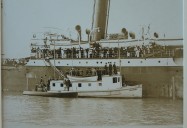 Asian Immigration Experiences: Journeys to Canada Series
Past Perfect Productions/6801260 Manitoba Inc.
PPP003
This program examines the experiences of Chinese, Japanese and South Asian immigrants in Canada...