Home / Transitions (Complete DVD Package)
Transitions (Complete DVD Package)
The transition from elementary or middle school to high school is a crucial one in the life of every young person. In fact, Dr. Bruce Ferguson, Director, Community Health Systems Resource Group in the Community Health/Mental Health Program at Sick Kids states that he "can't think of a life transition that's more difficult."To make matters worse, it all happens at a time when kids are also dealing with the emotional and physical changes of puberty. In this series, we went straight to the source. We took our camera's into the schools and interviewed Grade 7, 8 & 9 students, their teachers, guidance counselors, principals and parents. What we came away with is a 3-part series on the "transition process" - a students, parents and teacher's guide to one of life's biggest challenges.

The 20-minute Student's Version attempts to allay the fears and apprehensions that most young people experience as they enter high school. In our first visits with elementary students, kids discuss getting lost, bullying, locker combinations, more homework, initiation and peer pressure amongst other things. When we revisit them 3 months into their new high school year, they talk about what they "actually" experienced. Their initial fears were for the most part overshadowed by a need to learn how to study and manage their time. The 8-minute Parents Version speaks directly to parents about what their role is during the transition process and how they can help their child both at home and at school by remaining involved. The 30-minute Teacher's Professsional Development Version addresses transition programs and what effective programs consist of. A well-designed transition program can get kids off to a strong start and will help assure their continued success throughout their remaining years in high school. Both the Student and Teacher version come with a comprehensive Resource Manual that includes worksheets & tips on time management, study skills, test-taking skills, information about peer pressure, drugs and alcohol, bullying, plus information on successful transition programs. The Parents version comes with a fully reproducible brochure that can be used as a handout during your orientation programs.
GUIDE



---
Related Titles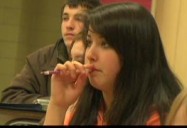 Transitions (Student Version)
McIntyre Media Inc.
MCI003
In short, poignant and sometimes amusing clips, kids talk candidly about their fears, anxieties and...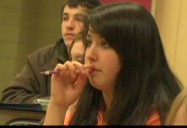 Transitions (Secondary Version)
McIntyre Media Inc.
MCI004
The 20-minute Student's Version attempts to allay the fears and apprehensions that most young...