Home / National, Provincial & Territorial Symbols of Canada Kit
National, Provincial & Territorial Symbols of Canada Kit
A recent poll by Ipsos Reid - the largest of its kind ever undertaken - found that although there are distinct differences in the way Canadians across the country define Canada, we ultimately still identify with the same things. By an overwhelming margin, the maple leaf topped the list of Canada's definitive symbols. Hockey was second, while the Canadian flag, which perhaps not coincidentally features a maple leaf, was third. Every country has its own set of unique symbols. These establish an identity that sets the country apart from other nations in the world. Symbols also tell a story of a nation, its people, environment and history. More importantly, symbols embody what a nation represents, both to other nations and to its citizens. They represent the values, goals and aspirations that are shared by all its citizens. Our symbols tell us stories about the Inuit who have lived in Canada for a very long time and the French and English who were the first Europeans to establish permanent settlements in Canada and the many different nationalities who have helped settle this vast country. In this program, you will examine the following symbols that are representative of Canada, its provinces and territories:
the Canadian flag
the maple leaf
the maple tree
the coat of arms
the parliament buildings
our national colours
the mace
the beaver
our national sports, hockey and lacrosse
Canadian horses
the North West Mounted Police
the Royal Canadian Mounted Police
the Canadian national anthem
Students will learn why and how these specific icons were proclaimed as national symbols. The program explores the history of each, the historical or current figures involved in the selection of each and the meaning behind each symbol. If you order the complete kit, you will also receive thirteen 5 minute segments that examine the symbols of each province and territory.

Complete kit includes:
1 National Symbols DVD - 20 minutes.
13 provincial & territorial segments (each approx. 5 minutes) on 1 DVD.
Chaptered DVD with images for use in classroom projects.
56-page Resource Guide with reproducible student handouts in digital format.
GUIDE



"This excellent kit of materials will meet curriculum requirements from Grades 1 to 5 for all provinces and territories (and grade 8 for PEI). The DVDs are informative and will appeal to a wide elementary audience. The excellent teachers guide contains background information to support the DVDs and includes art ideas, matching games, note organizers, legends, word searches and other games and many other ideas to enhance learning." Resource Links
---
Related Titles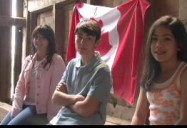 Canadian Holidays, Traditions and Celebrations
McIntyre Media Inc.
MCI013
In this program, we focus on the holidays, celebrations and traditions that are linked to the first...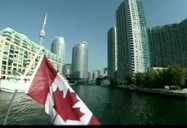 Provincial and Territorial Symbols of Canada
McIntyre Media Inc.
MCI012
In this new production, you will discover the official symbols and emblems for each of the 13...