Home / National Symbols of Canada
National Symbols of Canada
This title is a part of the series
National, Provincial & Territorial Symbols of Canada Kit
Catalogue Number:
MCI011
Producer:
McIntyre Media Inc.
Producing Agencies:
McIntyre Media Inc.
Subject:
Canadian Social Studies
Language:
English
Grade Level:
3 - 5, 6 - 8
Country Of Origin:
Canada
Copyright Year
: 2008
Running Time:
20:00
Every country has its own set of unique symbols. These establish an identity that sets the country apart from other nations in the world. Symbols also tell a story of a nation, its people, environment and history. More important, symbols embody what a nation represents, both to other nations and to its citizens. They represent the values, goals and aspirations that are shared by all its citizens. Our symbols tell us stories about the Inuit who have lived in Canada for a very long time and the French and English who were the first Europeans to establish permanent settlements in Canada and the many different nationalities who have helped settle this vast country.
GUIDE



"With three appealing young narrators, the historical and cultural background for each symbol is presented in an informative and engaging manner."
---
Related Titles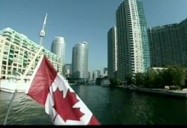 Provincial and Territorial Symbols of Canada
McIntyre Media Inc.
MCI012
In this new production, you will discover the official symbols and emblems for each of the 13...