Home / Wash Up! It's in Your Hands
Wash Up! It's in Your Hands
This title is a part of the series
Hand Washing Essentials Series
Catalogue Number:
MCI027
Producer:
McIntyre Media Inc.
Subject:
Health and Medicine
Language:
English
Grade Level:
3 - 5, 6 - 8
Country Of Origin:
Canada
Copyright Year
: 2008
Running Time:
12
Closed Captions:
Yes
Hands spread 80% of common infectious diseases like the common cold and flu. So how can we prevent this? It's simple! Hand washing is the most important thing we can do from getting sick. It's a fact! Health Canada and the Centers for Disease Control and Prevention have proven it. This 12 minute video gives students in Grades 4-9 simple facts about hand washing - why it's important, when to do it, and most important how to do it properly. Along the way, they also learn about microorganisms, viruses, and bacteria. In addition, students learn about other simple things they can do to stay clean - washing their hair, caring for the clothes they wear, brushing their teeth (braces included!). Simple things, but all too often forgotten!

LEARNING OBJECTIVES:

Following the viewing of this video program, students should:
Understand why correct hand washing is important.
Understand when to wash hands.
Demonstrate correct hand washing technique.
Understand why personal hygiene like hairwashing, brushing teeth, changing clothes is important.
Describe the increasing importance of personal hygiene during and following puberty.
Understand what microorganisms are.
The students will be able to list two germs; virus and bacteria.
GUIDE



"The two teenage hosts are engaging and present the information in a matter-of-fact manner that will appeal to children and young adults. This resource would be a good addition to school and public library collections." - Resource Links
---
Related Titles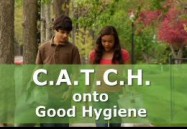 C.A.T.C.H. onto Good Hygiene
Learning ZoneXpress
430095
Learn the basics of good hygiene! Rachel and two teens demonstrate and share the fundamentals of...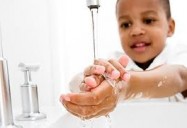 Germs Away! The ABCs of Hand Washing
McIntyre Media Inc.
MCI028
Hands spread 80% of common infectious diseases like colds and flu. So how can we prevent this? It's...