Home / Structures: Man-Made and Found in Nature: Plankton and Tube's Amazing Science Adventures Series
Structures: Man-Made and Found in Nature: Plankton and Tube's Amazing Science Adventures Series
This title is a part of the series
Plankton and Tube's Amazing Science Adventures Series
Catalogue Number:
MCI047
Producer:
McIntyre Media Inc.
Subject:
Science
Language:
English
Grade Level:
3 - 5, 6 - 8
Country Of Origin:
Canada
Copyright Year
: 2011
Running Time:
21
Structures are all around us. Take a look. Structures include bridges, buildings, chairs, shoes, spider webs, beehives, anthills, tables and even your own body. Structures are made by man and also found in nature. This program looks at various made-made and natural structures found all over the world. Through the use of fun experiments and short skits in their science lab, our two engaging hosts, Professor Peter Plankton and Professor Tess Tube help young students explore the science of structures. They learn that both humans and animals build specific structures with specific functions and that structures have many forms. Students are introduced to the complex, yet intriguing honeycomb structure that bees build. We look at modern day structures as well as those used by the First Nations people and other cultures around the world. In addition, students are introduced to the concept of reducing , reusing and recycling, and how structures impact the surrounding environment.
GUIDE
MORE RESOURCES



---
Related Titles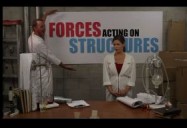 Forces Acting on Structures: Plankton and Tube's Amazing Science...
McIntyre Media Inc.
MCI048
Structures are all around us. Everywhere we go; everywhere we look. They come in all shapes and...