Home / You Are Here: Mapping Skills
You Are Here: Mapping Skills
Maps, even simple ones, give children the opportunity to navigate in their world with confidence. Maps give them a visual reference that can be checked over and over again. Map reading is an important skill for children to learn. It fosters spatial awareness, encourages math problem-solving skills, develops creative thinking and reasoning skills, and builds visual literacy.
In this light-hearted educational video, students learn the fundamentals of developing their mapping skills. Join our three hosts, Matthew, Laura and Evangeline on a hike through their local conservation area. Young students will enjoy watching as big brother, Matthew gets his crew lost. With the help of their map and Evangeline's animated computer tablet, the three find their way back to the parking lot - not before some zany antics from Matthew.
Back at home, with the help of a model helicopter drone, the three discuss their adventure and learn more about reading maps. Students are introduced to terms such as bird's eye view, cardinal directions, compass, directional/positional words such as above/below; near/far; left/right; up/down, map, and scale.
Includes DVD, PDF Resource Guide and Student Worksheets.
GUIDE



---
Related Titles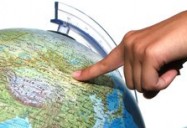 Where in the World Are We?: Mapping Skills
McIntyre Media Inc.
MCI070
The world is an amazing place! It's also huge. Young students need to have a frame of reference...