Home / Where in the World Are We?: Mapping Skills
Where in the World Are We?: Mapping Skills
Catalogue Number:
MCI070
Producer:
McIntyre Media Inc.
Subject:
Social Studies
Language:
English
Grade Level:
PreK - 2, 3 - 5
Country Of Origin:
Canada
Copyright Year
: 2013
Running Time:
14
Closed Captions:
Yes
The world is an amazing place! It's also huge. Young students need to have a frame of reference so they know exactly where they live in this big place.
In this NEW program specifically produced for your Canadian Social Studies curriculum, students learn that a globe is a spherical model of the earth. Our two hosts, Victoria and Jodre introduce important terms such as country, hemisphere, continent, ocean, equator, North and South Pole and more.
Students will begin to recognize that the world is made up of countries, continents and regions including the fact that Canada is on the continent of North America. The program will also give students an understanding of the relationship between climate and location. Includes a fun "Where in the World Are You?" continent quiz.
Includes: DVD, PDF Resource Guide and StudentWorksheets.
GUIDE



---
Related Titles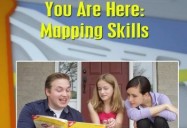 You Are Here: Mapping Skills
McIntyre Media Inc.
MCI069
Maps, even simple ones, give children the opportunity to navigate in their world with confidence...