Home / The Changing Family
The Changing Family
This title is a part of the series
Your Family: Your Heritage, Identity and Traditions Series
A family is a special group of people who belong together and who take care of each other. Families come in all shapes and sizes, and like people, each one is special in its own way. Most families have moms and dads and brothers and sisters, but today we see all kinds of different families - single parent, same sex parents, grandparents raising grandchildren plus families from lots of different countries.
In this visually appealing and fun new production, a lonely robot makes his way off the store shelf and tries to find a family of his own. Along the way we learn about ways in which modern Canadian families are changing.
---
Related Titles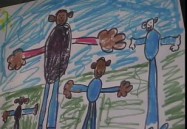 The Power of Family
Learning ZoneXpress
430084
Traditional, single parent, blended or extended - there are many ways we define a family. Our...