Home / Windy Wind: Brewster the Rooster Series
Windy Wind: Brewster the Rooster Series

This item is only available for Canadian orders.
This title is a part of the series
Brewster the Rooster Series
Brewster, Maggie and the twins are trying to fly kites but there is no wind. They wonder 'Where does the wind come from?' Brewster takes them high up in an air balloon and Sunny Sun explains that warm air goes up and the cool air rushes in to replace it and that's the wind.
Discover answers to questions only young children ask! Through creative thinking, Brewster and Maggie take young viewers on a journey of discovery in a way that will not only entertain, but will get their creative thinking caps on!
Based on the book series `Brewster the Rooster' by Clifford Parrott.
---
Related Titles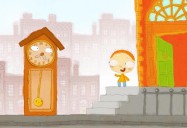 The Day Henry Met...A Clock
Monster Entertainment
MON050
Henry meets an old Clock waiting by the side of the road. He is moving house today but...