Home / The Day Henry Met...A Clock
The Day Henry Met...A Clock

This item is only available for Canadian orders.
This title is a part of the series
The Day Henry Met Series One
Henry meets an old Clock waiting by the side of the road. He is moving house today but unfortunately the delivery truck has left without him. Henry becomes a Delivery man for the day, helps Clock get to his house warming party on time.
Henry is a young boy who desires to learn something new in his everyday life. In each episode, he meets a new object and his imagination comes to life as he learns more with each new encounter. Henry creates so many friendships and everyone he meets is eager to help him find the answers to every new question.
GUIDE



---
Related Titles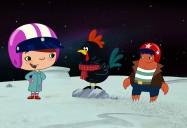 To the Moon and Back: Brewster the Rooster Series
Monster Entertainment
MON002
The friends play with Brewster's new telescope. They use it to look at the moon, but Carrick can...