Home / Echoes in the Dark: Brewster the Rooster Series
Echoes in the Dark: Brewster the Rooster Series

This item is only available for Canadian orders.
This title is a part of the series
Brewster the Rooster Series
While watching bats return home, Hamish notices the cave is very dark and asks 'How do bats see in the dark?' Brewster takes the gang into the cave where they meet Finbar Bat. He shows them how he uses his ears to listen to echoes and move around.
Discover answers to questions only young children ask! Through creative thinking, Brewster and Maggie take young viewers on a journey of discovery in a way that will not only entertain, but will get their creative thinking caps on!
Based on the book series `Brewster the Rooster' by Clifford Parrott.
---
Related Titles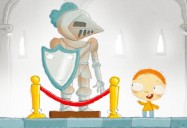 The Day Henry Met...A Shield
Monster Entertainment
MON047
Henry meets a friendly Shield. Shield tells Henry about a missing Sword kidnapped by a ferocious...