Home / The Day Henry Met...A Shield
The Day Henry Met...A Shield

This item is only available for Canadian orders.
This title is a part of the series
The Day Henry Met Series One
Henry meets a friendly Shield. Shield tells Henry about a missing Sword kidnapped by a ferocious Dragon. Henry becomes a Knight for the day and a little luck, he manages to rescue the missing Sword in the nick of time.
Henry is a young boy who desires to learn something new in his everyday life. In each episode, he meets a new object and his imagination comes to life as he learns more with each new encounter. Henry creates so many friendships and everyone he meets is eager to help him find the answers to every new question.
GUIDE



---
Related Titles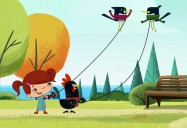 Windy Wind: Brewster the Rooster Series
Monster Entertainment
MON010
Brewster, Maggie and the twins are trying to fly kites but there is no wind. They wonder 'Where...