Home / Honey Guide: Anansi and Friends Series
Honey Guide: Anansi and Friends Series
This title is a part of the series
Anansi and Friends
Dottie the owl tells Anansi Spider about a honey comb she finds in the park but she needs Anansi's help to reach it. Anansi happily retrieves the honey but decides to keep it the all for himself. "Why should I share?" he says. "I did all the work!" And he eats all the honey in front of Dottie. Dottie feels tricked so she quickly makes some new friends that also love to eat honey and they remind Anansi that when we make a deal with friends we must keep our promises.
---
Related Titles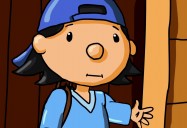 Goodbye Clutter/Count on Anne: Louis Says Series (Episode 4)
Louis Says Productions Inc.
LS0004
Episode 4A: Goodbye Clutter - Louis gives Randy a sack and instructs him to collect uyanisa and...