Home / The Magic Machine: Anansi and Friends Series
The Magic Machine: Anansi and Friends Series
This title is a part of the series
Anansi and Friends
Anansi Spider discovers how to use a giant machine that the humans gather food from. He asks Mufa the warthog to be his lookout and Anansi promises to share with him. Mufa waits patiently but it becomes clear that sharing is not something Anansi likes to do. But Anansi quickly discovers that "Greed will trap us all".
---
Related Titles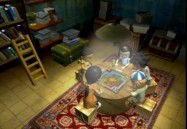 Birds of Clay
Magic Cellar
MGC003
A group of birds arrive at a village and eat half the farmer's seeds. The greedy farmers decide to...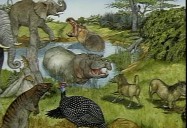 Honey..Honey..Lion!
Spoken Arts
530204
In Africa the honeyguide and the honey badger are partners. The honeyguide finds the honeycomb and...