Home / ADHD: Not Just For Kids
ADHD: Not Just For Kids

This item is only available for Canadian orders.
It used to be just for kids, but not anymore. ADHD: Not Just For Kids aims to dispel the myths and stigmas about Attention Deficit Hyperactivity Disorder, a condition that many people, kids and adults alike, often live with for years, unrecognized or misdiagnosed.
ADHD is a neurobiological disorder that leads to inattention, hyperactivity, and impulsivity. People with ADHD are often the adventurers, the ones willing to take risks, and thus are an important part of our social fabric. ADHD: Not Just For Kids tries to show that children and adults alike can transform their ADHD from a functional shortfall into a strength. It just needs to be recognized in the first place.
ADHD: Not Just For Kids introduces the viewer to specialists and researchers who provide insight on current science and treatment. As well, successful adults share stories of attempting to cope for years with a condition they never knew they had, instead blaming underperformance and struggles with day-to-day functions, frustrated career ambitions, and problems with relationships, on laziness, lack of discipline or even lack of ability.
---
Related Titles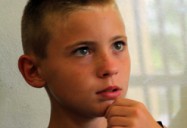 ADHD Rush Hour
Films Media Group
394404
The issues surrounding ADHD are fiercely debated. Who decides when rambunctious behavior has become...