Home / Food - Ep. 312: Planet Echo (Season 3)
Food - Ep. 312: Planet Echo (Season 3)
This title is a part of the series
Planet Echo (Season 3)
In this episode we learn about eco-friendly eating.
ADVENTURE: Chuck and Andy face-off in a slow-food cooking challenge. Andy is totally under-prepared but he has the Parks Canada Gourmet Food App as his secret weapon.
THE LAB: Dr. G. tells GP they are going to go on a green diet. He's going to overhaul all the food in the lab to make it greener and more eco-friendly. GP is concerned that Doc will discard his sunflower seeds.
---
Related Titles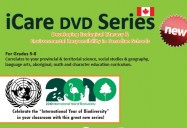 iCare Series
McIntyre Media Inc.
MCI032
This 3-part series examines environmental and ecological initiatives undertaken by Canadian schools...
Ultimate Guinea Pig Power - Ep. 210: Planet Echo (Season 2)
Positive Productions Inc. and Media RendezVous Inc.
PE0210
It this episode it's all about alternative forms of power. From solar to wind we learn that there...