Home / Stolen
Stolen

This item is only available for Canadian orders.
Stolen: For the size of their population, Aboriginal women in Canada account for an incredibly overrepresented percentage of missing persons and murder statistics. Sheena, a lost teenager, is placed in a girl's home. Seemingly forgotten and yearning for a life of freedom, she runs away, only to be picked up by a dangerous stranger. The directorial debut by actor Kawennáhere Devery Jacobs is a sober commentary on missing Indigenous women. The short film debuted at imagineNATIVE Film and Media Arts Festival and was inspired in part by the life and tragic death of Tina Fontaine. Not unlike Sheena, Fontaine, 15, was in the care of Manitoba Child and Family Services when she was reported missing to the Winnipeg Police Service. She'd been staying in a downtown hotel, reportedly placed there by social workers before her disappearance. Days later, her body was pulled from the Red River in August of 2014. Fontaine's death renewed calls to undertake an independent national inquiry into missing and murdered aboriginal women which was officially launched in August by the federal government.
The haunting song "Stolen" at end of the video is performed by young Canadian electro-pop artist Johnny Saga and his band "Wolf Saga" from London, Ontario.
Filmmaker Bio: Kawennáhere Devery Jacobs, is a Kanien'kehá꞉ka actress. She garnered a Canadian Screen Award nomination for Best Actress at the 2nd Canadian Screen Awards for her performance in Rhymes for Young Ghouls. she also starred on the Netflix series The Order.
MORE RESOURCES



---
Related Titles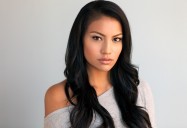 Ashley Callingbull Burnham: Redx Talks Series
iiniistsi Treaty Arts Society
RX0001
Ashley Callingbull Burnham is the first Canadian and first Indigenous woman to win the Mrs...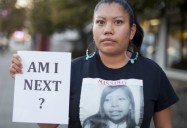 Missing and Murdered Aboriginal Women in Canada
McIntyre Media Inc.
MCI090
Violence against women is a significant issue in society.  According to the World Health...