Home / Pratique de l'identification et compréhension des systèmes de classification: Une incroyable planète
Pratique de l'identification et compréhension des systèmes de classification: Une incroyable planète

This item is only available for Canadian orders.
This title is a part of the series
Une incroyable planète
Benoit rêve qu'il est perdu dans la forêt et qu'il se meurt de faim. Quand il s'apprête à cueillir des baies rouges, Zoey lui rappelle qu'elles pourraient l'empoisonner. Benoit et Zoey apprennent les différentes façons de classifier les espèces vivantes, et se rendent compte que la classification est une chose que nous faisons tout le temps. Ils rencontrent un personnage historique et une diseuse de bonne aventure qui les met au défi de trouver un trésor enfoui.
---
Related Titles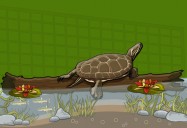 Les Enquêteurs de la planète incroyable
Pinegrove Productions
PPF000
Dans cette série de courts-métrages éducatifs qui reprennent le fil des aventures de Une...