Home / Anders Hayden: A Good Life Redefined - The Green Interview Series
Anders Hayden: A Good Life Redefined - The Green Interview Series

This item is only available for Canadian orders.
This title is a part of the series
The Green Interview Series
This episode of The Green Interview features Anders Hayden, author of Sharing the Work Sparing the Planet and When Green Growth is Not Enough: Climate Change, Ecological Modernization, and Sufficiency. A leading proponent of new work schedules, Hayden argues that working people have historically pushed for reduced hours since the start of the industrial revolution to create more jobs and to "live dignified and healthy lives,' but that today there is an additional recognition of ecological limits. He argues that the idea of infi nite growth is no longer an option at a time when current levels of consumption in industrialized countries have become unsustainable and that the promise of the benefits of technological advance and growth have also not been realized. He says that we should be focusing on sufficiency rather than efficiency and that it's time to collectively advance a new vision of wealth, one that offers real security and well being.
MORE RESOURCES



---
Related Titles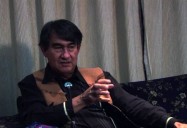 Native Ecology: Gregory Cajete - The Green Interview Series
Paper Tiger
PT0012
Gregory is a Native American educator whose work is dedicated to honoring the foundations of...