Home / Building a Genuine Progress Index: Ronald Colman - The Green Interview Series
Building a Genuine Progress Index: Ronald Colman - The Green Interview Series

This item is only available for Canadian orders.
This title is a part of the series
The Green Interview Series
Catalogue Number:
PT0026
Producer:
Paper Tiger
Subject:
Business Studies
,
Canadian Politics
,
Canadian Social Studies
,
Canadian World Studies
,
Environmental Studies
,
Family Studies/Home Economics
,
Politics
,
Social Sciences
,
Social Studies
,
Sociology
Language:
English
Grade Level:
9 - 12, Post Secondary, Adult
Country Of Origin:
Canada
Copyright Year
: 2009
Running Time:
59:00
Closed Captions:
Yes
Interview with Ron Colman, the founder and executive director of Genuine Progress Index Atlantic, a non-profit research group that has constructed an index of wellbeing and sustainable development for Nova Scotia, Canada. The GPI is a response to narrow conventional measures like Gross Domestic Product (GDP), which record ecological destruction and illness as economically positive. Since 1997 his organization has authored and co-authored nearly 100 reports on population health, social wellbeing and environmental quality, including the first comprehensive report measuring Nova Scotia's ecological footprint. Hailed as a "social-science rock star," Colman has traveled extensively to communicate his indicator work. He has also worked closely with the Royal Government of Bhutan, which has adopted Gross National Happiness (rather than Gross National Product) as its central policy goal.
---
Related Titles
Gross National Happiness: Jigme Thinley - The Green Interview...
Paper Tiger
PT0018
This episode of The Green Interview features Jigme Thinley, the first democratically elected prime...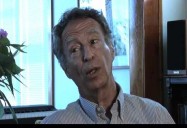 Gross National Happiness Conference: Ron Colman - The Green...
Paper Tiger
PT0014
Interview with Ronald Colman, Executive Director of Genuine Progress Index Atlantic, a non-profit...