Home / A Great-Grandmother Goes To Jail: Betty Krawczyk: The Green Interview Series
A Great-Grandmother Goes To Jail: Betty Krawczyk: The Green Interview Series

This item is only available for Canadian orders.
This title is a part of the series
The Green Interview Series
Catalogue Number:
PT0034
Producer:
Paper Tiger
Directors:
Becket, Chris
Producing Agencies:
Paper Tiger and Arcadia Video
Subject:
Canadian Politics
,
Canadian Social Issues
,
Canadian Social Studies
,
Canadian World Studies
,
Criminal Justice & Law
,
Environmental Studies
,
Politics
,
Social Sciences
,
Social Studies
,
Sociology
,
Women's Studies
Language:
English
Grade Level:
9 - 12, Post Secondary
Country Of Origin:
Canada
Copyright Year
: 2012
Running Time:
69:00
Closed Captions:
Yes
Interview with Betty Krawczyk, a "Raging Granny," an 83-year-old great-grandmother who has since taken civil disobedience to new heights, garnering international attention for having been arrested on eight occasions and serving more than three years in prison for refusing to budge on her eco-feminist principles, or to acknowledge wrongdoing. She says she is merely standing up for the rights of nature. More recently, Krawczyk has taken up the cause of aquaculture and genetically modified farm fish. She has run for office on several occasions, and she's written four books. She has eight children and eight grandchildren, and as an eco-feminist, she proposes to devote the rest of her life to trenchant opposition to the forces responsible for what she calls "societal and ecological breakdown."
---
Related Titles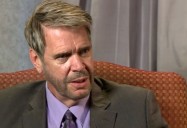 Larry Kowalchuk: Anti-Fracking Movement Finds a Voice - The...
Paper Tiger
PT0001
In 2013 anti-fracking protests took place in NB as a result of exploratory drilling and seismic...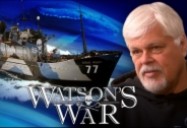 Watson's War: W5
CTV
CTV539
Canadian Environmentalist Paul Watson is doing whatever it takes to protect the species of the...