Home / Episode 11 - The Mother of Invention (Navigation methods, constellations, and satellites): Annedroids Series Three
Episode 11 - The Mother of Invention (Navigation methods, constellations, and satellites): Annedroids Series Three

This item is only available for Canadian orders.
This title is a part of the series
Annedroids Series Three
The kids are intent on figuring out where the robo-bug came from and who sent it. To do that, Anne works night and day to retrieve its programming. Once she unlocks it, she finds three sets of coordinates using the stars, a map and GPS that lead them nowhere until she realizes she has to triangulate the location. Once she finds the centre of the triangle, and the location that matches it, the kids head to an abandoned building. Inside, they discover the building wasn't always abandoned and it once may have been a laboratory where Anne's Mom worked. But that's not all they find. In a locker they find a hard drive containing complicated designs left for Anne by her Mom. Anne's not sure she's ready to start building whatever the designs are for but, when she's ready, her friends will be there to help.
MORE RESOURCES



---
Related Titles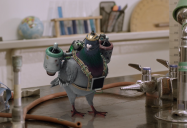 Episode 2 - Undercover Pigeon (Chemistry): Annedroids Series Two
Sinking Ship Entertainment
SSE179
It's the first day of school and Nick is nervous about making new friends, luckily he meets a...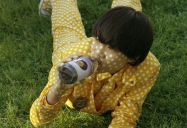 Picture Day (Episode 7B): Odd Squad Series One
Sinking Ship Entertainment
SSE010B
Otto and Olive must figure out why people in town are becoming plaid and striped after drinking a...