Home / Histoires de courage
Histoires de courage

This item is only available for Canadian orders.
Catalogue Number:
SVP400
Producer:
Sound Venture
Producing Agencies:
Sound Venture Productions
Subject:
Canadian History
,
Canadian Social Studies
,
Canadian World Studies
,
First Nations Studies
,
French
,
History
,
Indigenous Issues
,
Indigenous Peoples
,
Social Studies
Language:
French
Grade Level:
6 - 8, 9 - 12, Post Secondary
Country Of Origin:
Canada
Copyright Year
: 2016
Running Time:
21:00
Closed Captions:
Yes
La vie d'un pilote stagiaire Canadien - Le Royal Flying Corps établit le premier programme de formation des pilotes en territoire canadien en 1917.
Les triplans règnant dans le ciel - Les plus grands as de l'aviation de la Première Guerre mondiale et cinq audacieux pilotes canadiens poussent la technologie actuelle en hauteur.
La Croix de Victoria pour trois pilotes - Sur un total de plus de 22 000 Canadiens ayant volé dans le ciel au nom de la Grande-Bretagne, seulement trois acquièrent la prestigieuse médaille de la Croix de Victoria.
James David Moses - Les Autochtones canadiens sont en guerre, sur la terre et dans les airs, pendant l'apogée de la Première Guerre mondiale.
Memoriam - En guise de commémoration des actes héroïques, 13 monuments de la Première Guerre mondiale furent érigés en France et en Belgique.
Les Cadets de l'air du Canada - Les Cadets de l'Air est une association mise en place pour combler le besoin pressant de pilotes opérationnels en Grande-Bretagne pendant la Deuxième Guerre mondiale.
*** Please click here for the English version of this program. ***
---
Related Titles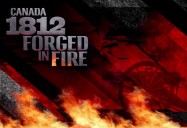 Canada 1812: Le Baptême du feu
Blue Ant Media
BAMF00
Canadians say the Americans were trying to take over Canada. Americans say they were trying to...