Home / Nano Inside Us: Welcome to The Nanoworld Series
Nano Inside Us: Welcome to The Nanoworld Series

This item is only available for Canadian orders.
This title is a part of the series
Welcome to The Nanoworld Series
For our third journey, we find out what changes nano particles can bring to our body. We discover new nanomedical treatments. On this scale, doctors can pinpoint diseased zones in the body. And they're already considering how to target affected areas and convey necessary medications in the correct doses. Spectacular applications are already in use, notably in the field of oncology. We will also observe new molecular diagnostic tools. They allow crucial medical analyses to be done in a "lab" no bigger than a credit card. But it is reconstructive medicine that most vividly shows us the astonishing horizons that this knowledge of living things can bring: if newts can regenerate severed limbs, why not us? The initial results are already in, with mice regaining sight after their optic nerve was cut!
---
Related Titles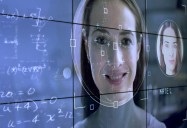 FRONTLINE: In the Age of AI
PBS Video
041933
It's been called "The New Space Race." This time it's China taking on the United States, and the...