Home / Not Without Us (56 Minute Version)
Not Without Us (56 Minute Version)

This item is only available for Canadian orders.
Catalogue Number:
TVP039
Producer:
Video Project, Inc.
Producing Agencies:
Kontent Films
Subject:
Documentary
,
Environmental Justice
,
Environmental Studies
,
Politics
,
Science
,
Social Issues
,
Social Sciences
,
Sociology
Language:
English
Grade Level:
9 - 12, Post Secondary, Adult
Country Of Origin:
United States
Copyright Year
: 2016
Running Time:
56:00
Demonstrating the power of the masses to challenge Big Oil interests, Not Without Us is an all too timely document of the grassroots struggle for significant climate action. Taking place in the months leading up to COP21 in Paris, the film chronicles activists from around the world and the different tactics they use to make their voices heard.

Starting nine months before the conference, the film takes us around the globe -- from North America to Europe to West Africa to South America -- as several activists fight for meaningful change. Indigenous activists in particular are highlighted as they outline how environmental rights are also human rights and that violations often hit them the hardest. Unfortunately, the presence of corporate sponsors who still have much to gain by maintaining the status quo indicates that the result of COP21 may be more empty promises and half measures than civilization saving actions.

Leading up to COP 21, the activists most essential tool -- the right to peacefully assemble and protest -- is threatened due to fallout from the Paris attacks two weeks before the conference. Ultimately, Not Without Us paints a hopeful picture of a united resistance from grassroots organizations and highlights the perseverance of the people's will even in the face of mounting political disappointment.
Please click here for the 72 minute version of this program.
FESTIVAL AWARDS

•Green Tenacity Award, San Francisco Film Festival
•Gold, Eureka Springs Indie Film Fest / Human Rights Art & Film Festival

OFFICIAL SELECTION
San Francisco Green Film Festival
Justice Matters Program, Filmfest DC
Environmental Film Festival in the Nation's Capital
CAAMfest
Kuala Lumpur Eco Film Festival
Planet in Focus Film Festival
Festival Internacional de Cine del Medio Ambiente (FICMA)
Eureka Springs Indie Film Fest / Human Rights Art & Film Festival
"A multitude of viewpoints are presented which provide much food for thought and topics for discussion or further research...Useful in social studies, political science, and environmental science classes."
-School Library Journal

"RECOMMENDED. Particularly poignant...Not Without us shows the power and importance of public engagement as humanity works to meet this threat with a similarly global resolution."
-Science Books & Films

"RECOMMENDED. Decena's film offers an interesting look at outside forces trying to become equal partners in a process where their input is neither requested nor desired by the world's power brokers. The Trump administration's widely reviled decision to pull the U.S. out of the Paris Accords agreement makes this a highly relevant documentary."
-Video Librarian

"Sobering information but viewers may be inspired by supportive crowds who could follow up with pressure on their politicians and businesses for true sustainability."
-Library Journal
---
Related Titles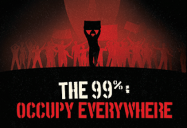 The 99%: Occupy Everywhere
Passion River Films
PR3502
This award-winning film, narrated by Lou Reed, has been broadcast on three US television stations...