Home / Sam and the Lucky Money
Sam and the Lucky Money
It's the Chinese New Year and Sam is finally old enough to choose how his lucky money will be spent. After exploring several options, Sam meets a stranger who helps him make the perfect decision. Vivid watercolors and a sensitive narration combine to celebrate the sights and sounds of Chinatown.
Written by Karen Chinn. Iconographic
"There are never enough materials for the Chinese New Year, and teachers will be delighted with this video." - School Library Journal
---
Related Titles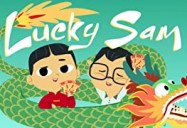 "Lucky Sam" - Holiday Special 2: 16 Hudson Holiday Specials
Big Bad Boo Studios
BBB004
Sam's 'perfect' Chinese New Year goes sideways when his cousin loses a lucky money envelope...