Home / Catherine the Great
Catherine the Great

This item is only available for Canadian orders.
Catherine the Great is a colorful, true story about a young girl, who transforms herself from an obscure German Princess into Russia's most powerful regent. As Tsarina, she is influenced by Western Democratic ideas and does much to strengthen Russia's standing in Europe. She has an astute intellect and is able to survive court intrigue to retain her crown.
---
Related Titles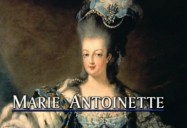 Marie Antoinette
PBS Video
040788
Her name is synonymous with the French monarchy and all its excesses, but there is more to the...