Home / Space, Time, and the Universe with Brian Greene
Space, Time, and the Universe with Brian Greene

This item is only available for Canadian orders.
Catalogue Number:
041592
Producer:
PBS Video
Subject:
Science
Language:
English
Grade Level:
Post Secondary, Adult
Country Of Origin:
United States
Copyright Year
: 2012
Host Brian Greene, professor of physics and mathematics at Columbia University and best-selling author, takes viewers on an exciting and in-depth exploration of a groundbreaking new theory: one of the most ambitious and exciting scientific theories ever posed—one that may be the long-sought Theory of Everything. The Elegant Universe illuminates one of the most revolutionary theories in physics today, known as string theory or superstring theory, a startling idea proposes that the fundamental ingredients of nature are inconceivably tiny strands of energy, whose different modes of vibration underlie everything that happens in the universe. Individual episodes include: Einstein's Dream, String's the Thing, and Welcome to the 11th Dimension. Special Features for The Elegant Universe include a bonus video detailing how the animation was created; The Making of The Elegant Universe activity; a Multidimensional Math activity; and an excerpt from the best-selling book. The Fabric of the Cosmos is a mind-blowing, new exploration of space, time, and the very nature of reality. Discover why empty space is not empty, at all; how our perceptions have misled us and time may be an illusion; why a hidden realm, where the seemingly impossible is possible, lies just beneath the surface of the everyday world; and how other universes—even copies of you—may exist.
Individual episodes include:
What Is Space?
The Illusion of Time
Quantum Leap
Universe or Multiverse
---
Related Titles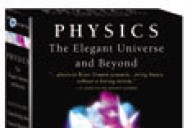 Physics - The Elegant Universe and Beyond
WGBH
WG0270
String theory, anyone? Join host Brian Greene, professor of physics and mathematics at Columbia...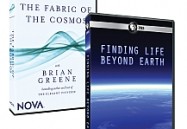 Fabric of the Cosmos / Finding Life Beyond Earth DVD Set
PBS Video
041484
If you are interested in space and the mystery that comes with it then you will enjoy this Fabric...