Home / NATURE: The Gathering Swarms
NATURE: The Gathering Swarms

This item is only available for Canadian orders.
Catalogue Number:
041706
Producer:
PBS Video
Subject:
Science
Language:
English
Grade Level:
9 - 12, Post Secondary
Country Of Origin:
United States
Copyright Year
: 2014
Running Time:
60
Closed Captions:
Yes
A look at some of the planet's great gatherings, creatures that come together in inconceivable numbers - sometimes in millions, billions, and even trillions. Included are bats and bees, locust and ants, monarch butterflies in Mexico, 17-year cicada hatches, grunion in the Sea of Cortez and carp in the Mississippi River, sardine runs off the coast of South Africa, super flocks of parakeets in the Australian Outback, mayflies on the 4th of July, and even penguins and wildebeest.
Some gather to breed or to migrate, some for protection, some simply to keep warm in the cold. But in the process, a kind of super-organism is created in which individual intelligence is superseded by a collective consciousness that shares information and moves with a single purpose for the benefit of all. Check out swarm intelligence, essentially a living embodiment of social media in the natural world.
---
Related Titles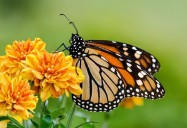 Pollinators: The Wild, Wild East
Blue Ant Media
BAM338
The Annapolis Valley is the Wild Wild East's most important agricultural centre. Explore honeybees...