Home / American Experience: Blackout
American Experience: Blackout

This item is only available for Canadian orders.
On July 13, 1977, New Yorkers prepared themselves for another sweltering day. But high temperatures weren't the only thing making them sweat: unemployment was high, police and firefighters had been laid off, municipal services had been cut, and a serial killer named Son of Sam was still on the loose, keeping everyone on edge. That evening, lightning struck a power line outside the city, increasing demand on surrounding lines. Despite Con Edison's efforts to control the cascading effects and prevent a catastrophic system failure, the lights went out, plunging some seven million city residents into darkness.

In the city that never sleeps, the divide between the haves and the have-nots became ever more apparent, as mayhem broke out under the cover of darkness. By the time the lights went back on more than a day later, more than 1,600 businesses had been looted, over 3,700 people had been arrested, and firefighters had battled more than 1,000 fires.

Told through the memories of ordinary New Yorkers who lived through the events, Blackout explores what happened on the night the lights went out.
---
Related Titles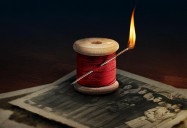 American Experience: Triangle Fire
PBS Video
041386
The Triangle Fire chronicles the fire that tore through the Triangle Shirtwaist Factory in New York...