Home / POV: Swim Team
POV: Swim Team

This item is only available for Canadian orders.
What would you do if your community gave up on your child? In New Jersey, the parents of a boy on the autism spectrum take matters into their own hands. They form a competitive swim team, recruiting diverse teens on the spectrum and training them with high expectations and zero pity.

Swim Team chronicles the extraordinary rise of the Jersey Hammerheads, capturing a moving quest for inclusion, independence, and a life that feels winning.
---
Related Titles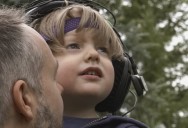 Beyond the Spectrum: A Family's Year Confronting Autism (65...
Merit Entertainment Inc.
MEI003
Offers a different perspective of children with ASDD as it examines early intervention and insight...