Home / NOVA: Thai Cave Rescue
NOVA: Thai Cave Rescue

This item is only available for Canadian orders.
In July 2018, an international team of cave divers endeavored to rescue 12 boys and their soccer coach stranded in a flooded cave in Thailand. Follow the harrowing operation and discover the scientific ingenuity that made the rescue possible. Hear how rescuers explored every option - from pumping out water, to drilling a new exit, to ultimately cave-diving with the children.
---
Related Titles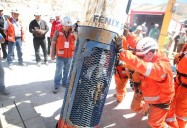 Chilean Mine Rescue: The Unstoppable Team - A Case Study in...
Films Media Group
394620
Although most corporate managers don't have to wrestle with life-or-death decisions, the key to a...