Home / Entrepreneurship: Be Your Own Boss
Entrepreneurship: Be Your Own Boss

This item is only available for Canadian orders.
It is said that entrepreneurs are ordinary people who achieve extraordinary things. How do entrepreneurs succeed in following their dreams, while making them profitable? Discover the struggles and successes of four different business owners in Entrepreneurship: Be Your Own Boss. Featuring interviews of a baker, videographer, children's clothing designer, and president of a charitable running event company, the entrepreneurs share their experiences running their own businesses. Topics include:
• Motivation
• Challenges and Risks
• Strengths, Skills, and Training
• Time Management
• Communication and Teamwork
• Support Systems
• Rewards
• Advice for Others
GUIDE



---
Related Titles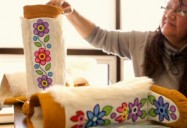 Made in Canada Series: Canadian Entrepreneurship
CTV
CTV691
Canada is a hotbed of innovation and ambition. In this world of accelerating and constant change,...
Making It: Small Business Advice with Pattie Lovett-Reid
CTV
CTV580
So you're thinking about opening a small business. Becoming an entrepreneur? Investing in a...