Home / Word Zap: Exploring Parts of Speech
Word Zap: Exploring Parts of Speech

This item is only available for Canadian orders.
After alien Xylo crash-lands on Earth, he meets Coz, an alley cat with an excellent knowledge of the English language and its grammatical structures. Colorful animation, loads of humor and plenty of adventure keep things lively in this five-part series. Your students will enjoy reviewing grammar basics using a combination of words and images that create memorable lessons. A Teacher's Resource Book includes illustrated reproducible worksheets.

- The Noun Who Fell to Earth Xylo's spaceship crashes behind Pizza Pow, where he meets Coz. Together, they share an Earth meal while learning about nouns-compound, proper, concrete, abstract, singular, plural and more. (10:00)

- Close Encounters of the Verb Kind The adventure continues as Xylo and Coz visit a shopping mall. As Xylo marvels at the things Earth people can buy, Coz explains action verbs, direct and indirect verbs, and agreement. (11:45)

- The Day the Pronoun Stood Still At a zoo, Coz gives Xylo a double lesson in animals and pronouns. These zany friends then discuss personal pronouns, antecedents, agreement and the difference between subjective, objective and possessive pronouns. (10:47)

- Attack of the 50-Foot Adjective When Coz takes Xylo to the carnival, the rides and game booths are a perfect backdrop for learning about adjectives. (11:41)

- The Adverb Strikes Back In the last installment of the series, Xylo has fixed his ship and takes Coz back to his home planet. There Xylo discovers the questions that adverbs answer (how, when, where) and the types of words that adverbs describe or modify. (13:32)

Five 15-Minute DVDs. Includes Resource Guide.
---
Related Titles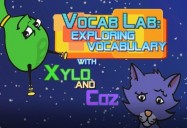 Vocab Lab: Exploring Vocabulary with Xylo and Coz
Human Relations Media
600468
Alien space traveler Xylo is on a mission to explore Earth and learn all he can about vocabulary...