Home / Crimes, Capers and Whodunits: Math Mysteries Series
Crimes, Capers and Whodunits: Math Mysteries Series

This item is only available for Canadian orders.
Catalogue Number:
600657
Producer:
Human Relations Media
Subject:
Mathematics
Language:
English
Grade Level:
6 - 8
Country Of Origin:
U.S.
Copyright Year
: 2015
Running Time:
5 x 11:00
Closed Captions:
Yes
Math Mysteries: Crimes, Capers and Whodunits is a series of five interactive mysteries designed to integrate the math curricula with engaging mysteries for students to unravel. Because each mystery incorporates a range of appealing skills applications, it is ideal for review, skills recovery, and enrichment purposes.
Let your students apply their math skills to real world problems as they solve intriguing mysteries and whodunits. Super sleuths from the Pi Detective Agency have gathered data and clues from unsolved cases. Your students will need to sift through written case files, dissect video interviews with possible suspects, test theories and more as they apply their content knowledge to a variety of engaging mathematical challenges.
The student activities and the workbook help scaffold learners towards solving the crime, grabbing the reward, catching the crook and finding the treasure!
Includes Resource Guide.
Winner of the Summer 2015 Academics' Choice Smart Media Award
---
Related Titles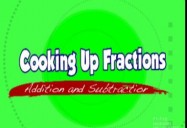 Cooking Up Fractions Series
Human Relations Media
600439
Chef J and her co-host, Master Chef Souflle tackle fraction-filled recipes. Each age-appropriate...